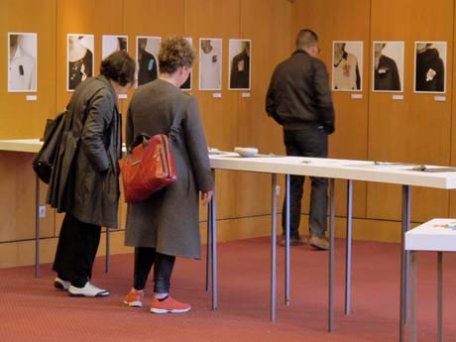 10/03/2013
"ConSpiración" EASD València and Escola Massana of Barcelona. Spanish Contemporary Jewelry in Instituto Cervantes in Munich
The last 7st March was opened "ConSpiración" Spanish Contemporary Jewelry. Group exhibition of the EASD València and Escola Massana of Barcelona in Instituto Cervantes in Munich.

Young artists from the two schools:L. Castañ, Á. Bermúdez, E. Tarín, R. Acosta, E. Mateu, E. Pascual, A. Santoro, C. Pignotti, E. Peris, N. Belda, E. Mellado, M. Morimitsu, S. Robinson, M. Alandes, R. Borreda, A. M. Duque Santos, B. Prats, F. Tocornal, L. Gratacos, L. Carmelo, M. Basora Morato, R. Nogués Freixas, S. Barbie, A. Gómez, C. García, C. Giner, C. Niubo, M. Díez, S. Llusa, S. Mazuera, presented 80 works: broochs, necklaces, pendants, rings and objects.


Silvia Walz: "Munich has been a success. More than 500 people in five days have visited the exhibition, and criticism in general has been very good. For students has been a good experience to teach and talk over their works with gallerists and collectors. Instituto Cervantes has been fantastic with us, and we look forward to repeat this experience during the Schmuck another year."
more: http://munich.cervantes.es/FichasCultura/Ficha87207_25_1.htm