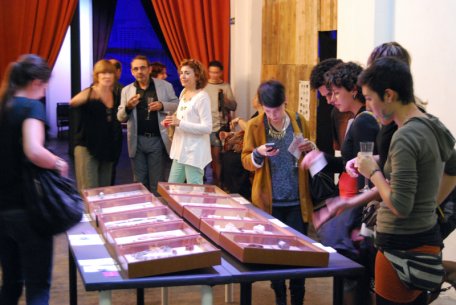 21/10/2013
CONTEXT in JOYA 2013
Inside OffJoya 2013 we presented a selection works off the artists from the gallery in Mutuo Centro de Arte in Barcelona.
There have been very intense but gratifying days for the great quantity of visitors who have seen the show, in some cases finding an unknown world, and to have continued with our objective of popularizing contemporary jewelery, and the work off the artist  to the general public.


 A total off 50 jewels:
Oscar Abba, Yaiza Alemany, Núria Anguren, Montse Basora, Eugènia Besora, Lourdes Carmelo, Andrea Coderch, Olga Codina, Grego García Tebar,  Ana García Moya, Eva Girbes, Ana Heimann, Olga Hernández Puerto, Oriach-Reina, Carme Ortiz, Martina Pont, Begoña Prats, Silvina Rio, Cinta Sala, Blanca Sánchez, Fátima Tocornal, Marta Torrent, Tomoko Umemoto, Silvia Walz, Renate Wülfinghoff.
You can see the jewelery presented in : http://www.context.cat/en/13219/pecesActivitat/12