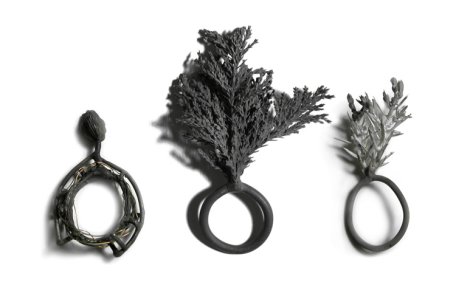 15/03/2017
MARI ISHIKAWAS-MARGIT JASCHKE-SUSANNE WAGNER joint exhibition in Munich.
Bayerische Akademie der Schönen Künste brings together the work of two jewelers and a video artist.
The pieces of Japanese jeweler Mari Ishikawas are delicate structures, reminiscent of leaves and lichen; are named after constellations atmospheric and cosmic phenomena such as "shadows of clouds" or "lunar eclipse". The materials used are gypsum, silver threads, molds leaves, bark ... the jeweler joins together in a subtle . Mari Ishikawas is passionate red, as it has several symbolic meanings Japanese culture.
Margit Jaschke born in Halle (Saale-Germany), their jewelry tell fantastic stories and poetry. Subtle and sometimes cold, their jewelery and their designs muted colors dominate. The use of materials as diverse as metal, corrugated cardboard, resin, and semi-precious stones, give rise to unique creations brooches and necklaces.
Susanne Wagner (Germany)), she is a video- artist. At the Odeon Square in Munich led a living memorial to remember the victims of sexual violence during the war. His current intention is to work with codes extracted directly from the company.
8 March to 7 April 2017
at BAYERISCHE AKADEMIE DER SCHÖNEN KÜNSTE , Max-Joseph Platz , Munich